Is there a child who does not love smoothies? The answer is a universal 'no'. A delicious smoothie is all a child needs to feel happy. It's a beverage children love to drink any time of the year. Smoothies are one of the healthiest alternatives when it comes to beverages. They can be made with fruits or vegetables or a combination of both. Depending upon the choice of ingredients, they provide a healthy dose of Vitamins, fibre, carbs, protein and necessary fats. Their taste is what makes them a preferred choice of children across all age groups. Including them in a child's diet is always a good idea. Here are five delicious and healthy smoothie recipes, made with a combination of fruits and veggies, that will provide a good amount of nutrition to your child and also keep her / his tummy full.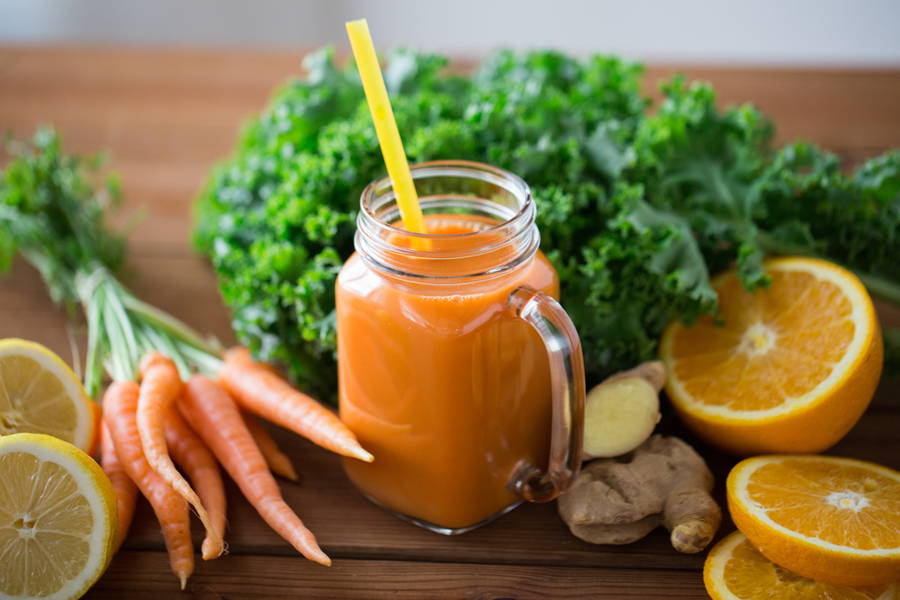 Orange Carrot Healthy Smoothie
Oranges supply Vitamin C the way no other fruit does. On the other hand, carrots are rich in Vitamin A, Vitamin B6 and dietary fiber. Together they make for the perfect combination of good health.
Required:
2 oranges
½ cup diced carrots
3 tablespoons cashews
2 tablespoons goji berries
1 cup coconut water
ice cubes
Process:
Blend the oranges, diced carrot, cashews, goji berries and coconut water for a minute.
Add ice cubes and blend again for a few seconds.
Serve chilled.
Nutrition: 254 calories, 46g carbohydrates, 4g protein and 7g fat.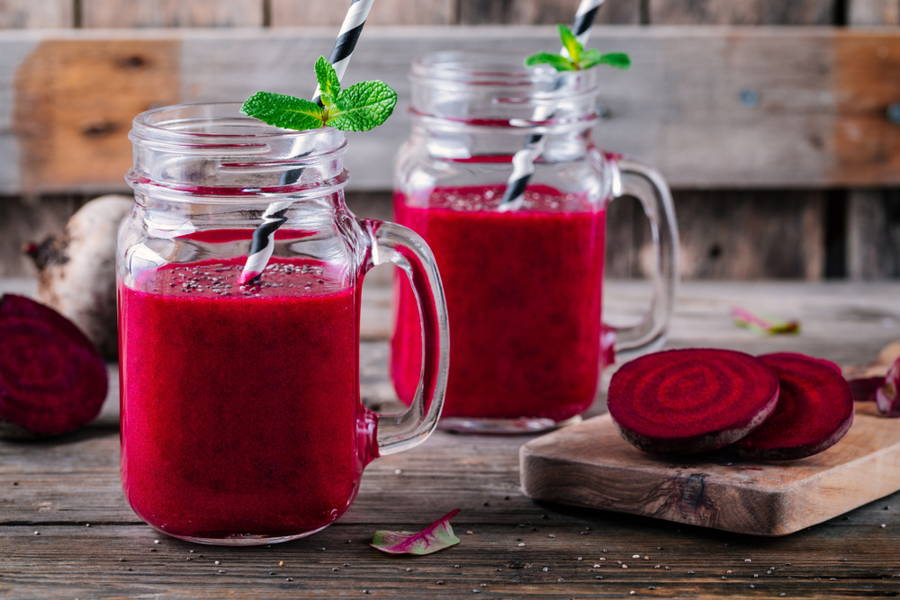 Beetroot Blueberry Healthy Smoothie
While beetroot is rich in Vitamin C, magnesium and iron, blueberries are loaded with antioxidants, fiber and Vitamin K. A combination of these two power-packed ingredients will not just go down your child's belly smoothly but also give her / him a dose of immediate energy.
Required:
2 beetroots, peeled and diced
1 peeled apple
50g blueberry
1 tablespoon grated ginger
Water
Process:
Add the beetroot, apple, blueberries and ginger to a blender. Blend till you get a smooth mixture.
Add water to adjust consistency and blend again for 20 seconds.
Serve fresh.
Nutrition: 88 calories, 19g carbohydrates, 2g protein and 0g fat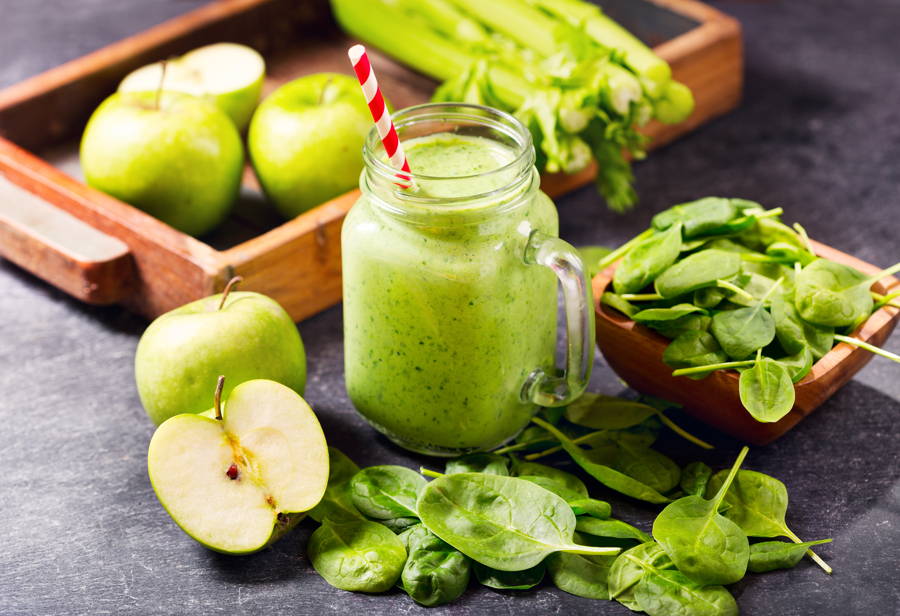 Spinach Apple Healthy Smoothie
Children usually don't like spinach. That's where apple will come to the rescue. Spinach provides a good dose of Vitamin C and potassium. Apples are low on calorie and free of fat, sodium and cholesterol. Together they are a boon for your child's health.
Required:
1 cup chopped spinach leaves
1 ripe banana
½ peeled apple
1 cup grapes
1 tub vanilla yogurt
Process:
Put the banana, chopped spinach leaves, grapes, yogurt and apple in a blender.
Blend for two minutes or until a smooth mixture is achieved.
Serve fresh.
Nutrition: 205 calories, 45g carbohydrates, 6.1mg protein, 1.9g fat and 4mg cholesterol.
Kale Banana Healthy Smoothie
Kale is an excellent source of Vitamin K, Vitamin A, Vitamin C, calcium, iron, phosphorus, protein and much more. That's perhaps why it is considered the healthiest food in the world. Add banana to it and you get a glass full of good health and taste.
Required:
2 cups chopped kale
1 banana
1 teaspoon flax seeds
½ cup unsweetened soy milk
1 teaspoon maple syrup
Process:
Ground the flax seeds in a blender.
Add the banana, chopped kale, maple syrup and soy milk to the blender and blend for two minutes.
Serve fresh.
Nutrition: 311 calories, 56.6g carbohydrates, 12.2g protein, 7.3g fat and 0mg carbohydrates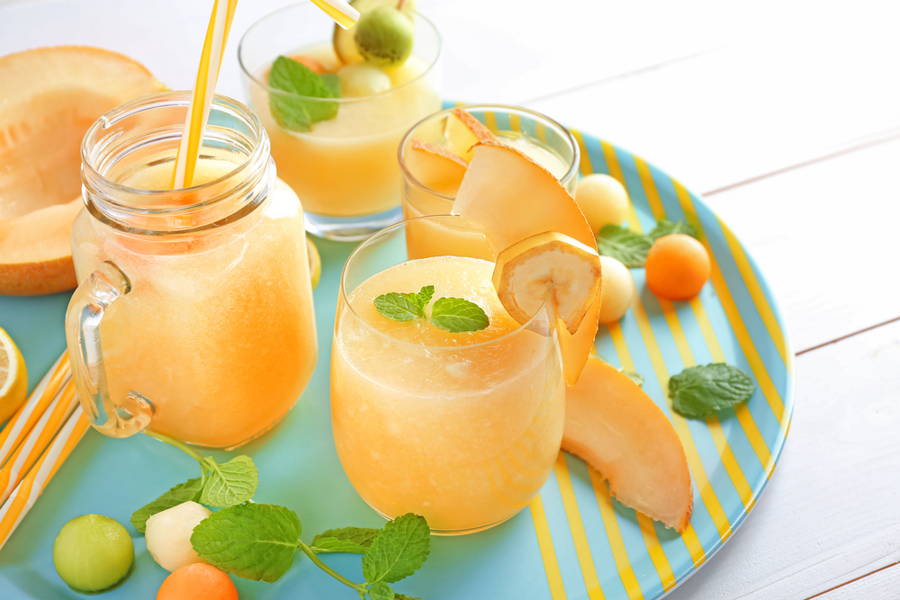 Honeydew Melon Cucumber Healthy Smoothie
Honeydew melon is 90% water. Which means it will get absorbed easily and keep your child hydrated. Cucumber is also a good source of water, potassium, Vitamin C and fiber. Together they provide a refreshment like no other.
Required:
1 honeydew melon
1 cup green grapes
1 cucumber, peeled and diced
¼ cup mint leaves
Process:
Peel the honeydew melon, remove the seeds and dice it.
Add the melon cubes, green grapes, cucumber pieces and mint leaves to a blender and blend for a minute.
Serve fresh.
Nutrition: 86 calories, 21.2 carbohydrates, 1.6g protein, 0.5g fat and 0mg cholesterol.
Since all these fruits and vegetables are easily available, making these healthy smoothies will not be challenging at all. Try all of them one by one to give your child the best of nutrition. See which one she / he likes the most and make that one often.